In our Natural Arlington blog, we've talked previously about the studies done on tree canopies. This gives us a great idea of the extent of where our trees are in the county. However, it does not communicate what kinds of trees Arlington has, their ecological value, and the age distribution. This information is invaluable to managing our tree canopies properly, and we will be surveying plots throughout the county using the United States Forest Service (USFS) program iTree Eco.
What is iTree Eco?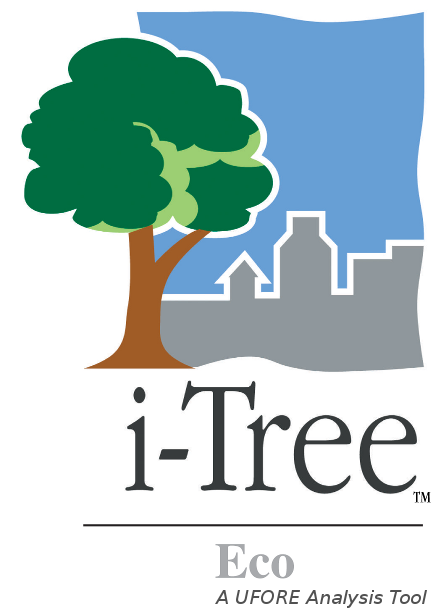 The USFS describes this program as "a software application designed to use field data from complete inventories or randomly located plots throughout a community along with local hourly air pollution and meteorological data to quantify urban forest structure, environmental effects, and value to communities."
What this means in practice is we will be performing 201 plot surveys of trees, of 0.1 acre in size, throughout Arlington County. These surveys will provide us with a statistic estimate on the greater value and composition of our tree canopies. For example, we will learn how complete our vertical tree canopy is, with all the components described earlier in the Designing a forest from the ground up post.
What will we be doing this year?
Staff and volunteers will be going out to all the plots (such as the plot on the left), and assess the composition of the plot, including:
Groundcover, such as asphalt, concrete, grass, herbaceous species, etc.
Tree canopy cover
Tree measurements, including species, diameter, crown composition, and how these trees help shade buildings.
Presence of invasive species (not included in the standard iTree Eco measurements, but an additional value we hope to glean).
What can we do
with the results?
Understanding what we have, as far as species composition, age distribution, structural and environmental value can be greatly beneficial to:
Prioritization of planting of species with low presence, but high value in our tree canopy, and analytics on which species to restrict planting, when overplanted.
A better understanding on the effectiveness of our programs and policies
Prioritization of high value tree canopy preservation and development
An understanding of resource needs and prioritization of current resources for tree maintenance and planting
Public education on the value of trees
Hopefully, with another study in the future (a 5 year schedule is recommended), we will be able to see change over time, and adjust to this change.
For more information
iTree Eco website: https://www.itreetools.org/eco/
Arlington county iTree Eco project page: https://environment.arlingtonva.us/trees/2016-itree-eco-study/
Example report from Fairfax county (PDF): http://www.fairfaxcounty.gov/dpwes/environmental/ffcounty_ecoreport.pdf